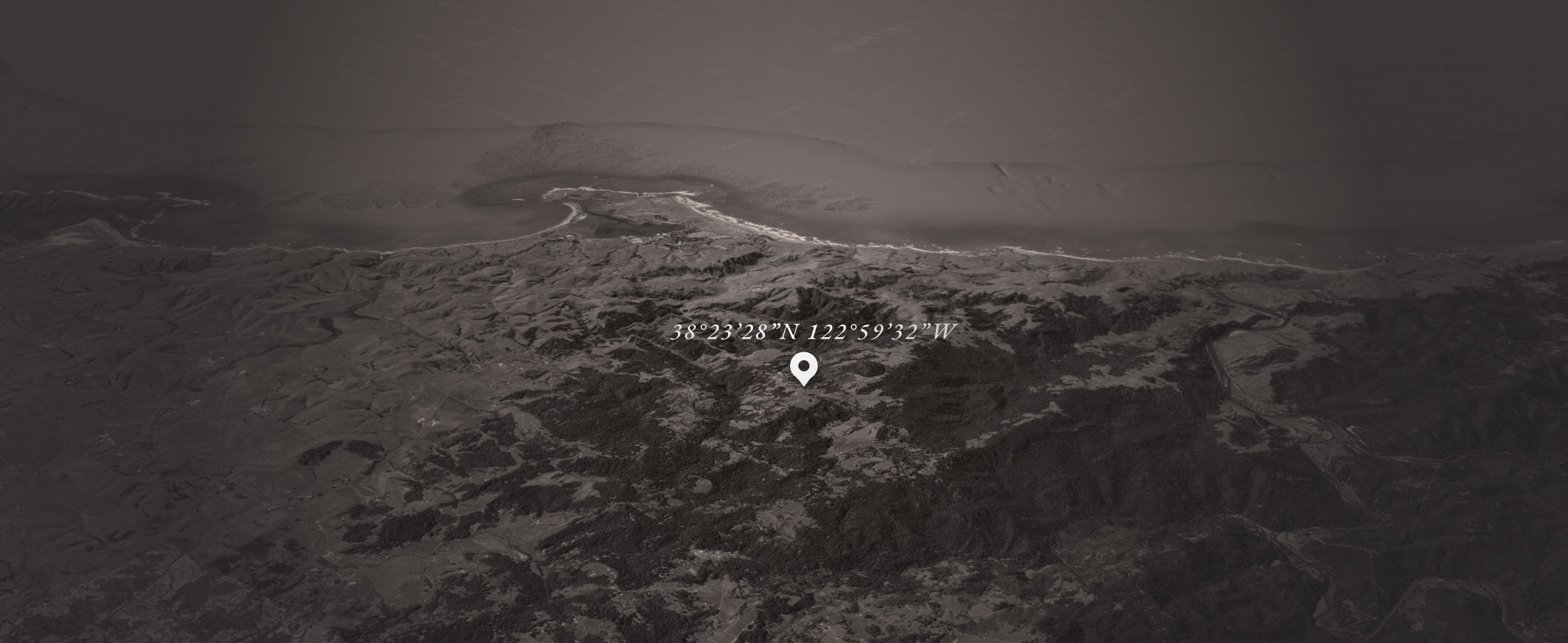 THE FUTURE
Staking claim to a ridgeline.
In 2005 Bryon Sheets bought a house off Doc's Ranch Road, just down the road from Coastlands. Included in the property was a 1.5 acre vineyard planted to Swan clone Pinot Noir that dated back to 1999. Upon learning that an adjacent property was for sale, he began reaching out to vineyard managers to learn the viability of the site for vineyards. In 2011 Bryon was able to plant 8 additional acres of Pinot across three clones: Pommard 5, 114 and Calera. Additionally, he planted 1 acre of UCD Clone 5 Chardonnay naming the block after his mother JoAnn.
Bryon reached out to Ross in 2016 asking if he would be interested in sharing his vineyard management company. Fitzpatrick Lane is a narrow road, and Bryon was in hopes to consolidate their efforts and reduce the amount of large trucks in the neighborhood. Ross knew this site well, having been hired by the previous owners in 1990 to help lay the original water line. Watching the vineyard develop from its infancy Ross saw the potential. In 2017, Ross not only took over farming of Doc's Ranch, he signed a long-term lease, bringing Doc's Ranch into the fold as the second Estate Vineyard for Cobb Wines.
TERROIR
Cold, wind and fog. A Pinot's Delight.
Sitting on the same ridgeline as Coastlands, Doc's Ranch faces Southeast with a clear view of Pt. Reyes. It's planted with a more modern layout than Coastlands, spacing the vines tightly as they careen down the steep hillside. Though younger than Coastlands, Doc's warms up earlier in the day due to its orientation and it's protected against the harsher westerly winds that hammer neighboring Coastlands. While still a shy yielding site, Doc's has trended toward better fruit set than Coastlands with wines showing bracing acidity and an intense purity to the fruit. The Chardonnay is equally impressive, inspiring Ross to bottle a tiny production block designate that has become one of the favorite wines in the Cobb portfolio.
The first vintage of Doc's Ranch in the Cobb lineup was 2017 and the results were stunning. One can only imagine how future vintages will improve as these vines develop with age.