The Original
Where it all began.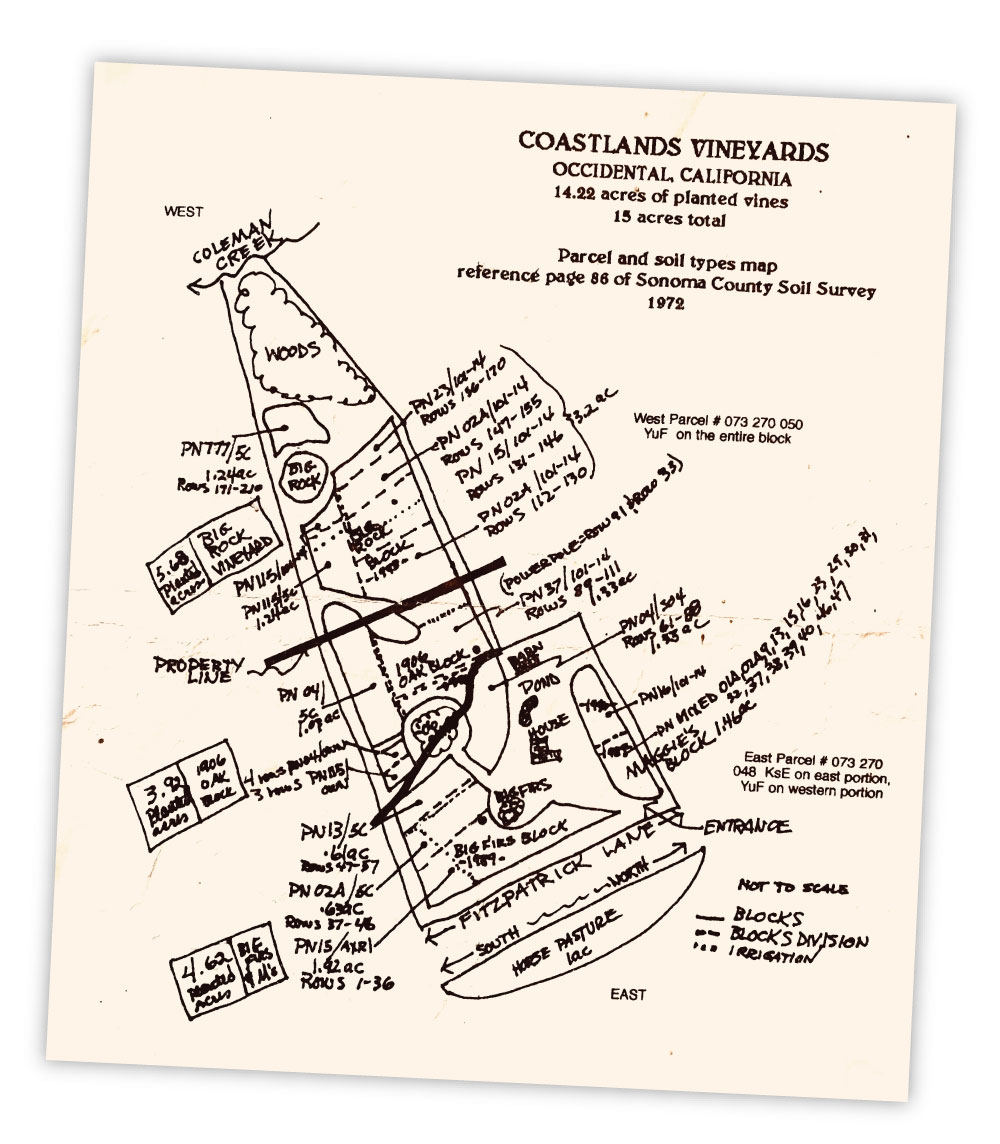 Coastlands Vineyard has some of the oldest plantings of Pinot Noir in Sonoma County. Home to four distinct blocks, this estate vineyard sits at 1150 ft elevation just three miles from the coast. This site is extremely unique in that there are incredibly deep, rich soils at elevation. Due to its proximity to the coast and Southwest orientation, Coastlands is known for small yields and intense, complex fruit. On a clear day, one can see Pt. Reyes, Mount Tamalpais and the rocks off Jenner where the Russian River meets the Ocean.
The Old Firs Block was one of two original plantings in 1989. Named after two large Douglas fir trees, this block is planted to the old Louis Martini clones 13 and 15 as well as the Wadensvil clone 2A. Facing Southwest in orientation the Old Firs Block is under constant marine influence, getting pummeled by cool wind and fog throughout the growing season. Like the Diane Cobb Block, Old Firs hasn't been irrigated in over 20 years.
Hidden within a thicket of Bay Laurel trees sits an old oak with the numbers 1906 carved into the side. Long before the Cobb family came to Coastlands, this parcel of land was a sheep farm. It is believed that this tree was carved to memorialize what would have been a harrowing day on April 18th in 1906 when an earthquake large enough to be felt from Oregon to Los Angeles shook San Francisco. Just below this stately tree is the namesake 1906 Block of Pinot Noir. After planting and farming over 5 acres on their own, the Cobb family enlisted a vineyard management company to expand down the western hill, planting 2.5 acres to Pommard 4 and 1.5 acres of Mt. Eden clone 37 in 1998.
Also planted in 1998, sitting below the 1906 Block lies the completion of Coastlands vineyard. The Big Rock Block covers 5.6 acres planted to Louis Martini 15, Wadensvil 2A, and clones 23, 115 and 777.
THE DIANE COBB BLOCK
There's no place like home.
Diane Cobb was an adventurer at heart. In addition to being a dedicated mother and wife, she shaped surfboards for Hobie in the '50s in Laguna Beach and flew airplanes to spot swordfish for fishermen in the Channel Islands in the '70s.  Along with the vineyard work, she was the art director for the magazine Practical Vineyard and Winery for 25 years.  It was Diane who set Coastlands on its pathway when developing piece of land that would become iconic in Cobb Wines history.
Diane went to UC Davis in the fall of 1988 seeking out the highest quality Pinot Noir clones that were available. All told, she selected 16 clones of Pinot Noir that were planted on their own roots. The chosen plot was a small pasture where the family horse Maggie once grazed. This expansion block was registered as a nursery so that in time they could cultivate budwood from their favorite clonal selections in future plantings. In the early '90s, Burt Williams was purchasing grapes from this section for Williams Selyem. In 1996, Burt came out close to harvest to taste through some of the ripening fruit. At the time, this portion of own-rooted vines was lovingly referred to as Maggie's block. Together, Ross, Burt and his parents walked all sixteen rows tasting as they went and talking over which row they enjoyed the most. Unanimously everyone settled on Jackson 16, and the family would go on to plant an additional .75 acres of this clone, completing the vineyard in 1996.
Upon Diane's passing in 2006, Ross and his father renamed the block in her memory and dedicated a bottling to her incredible life.  Today this block yields the most powerful and complex wines from the property, annually paying tribute in achievement and legacy to the phenomenal woman for which it's named.